Video 2 Text Synchronization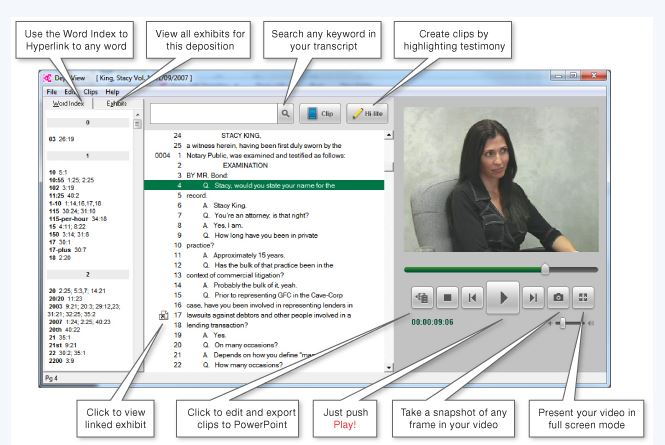 Boggs MultiMedia provides in-house video 2 text synchronization. The DepoView™ Transcript software is the newest and easiest way to review, search and extract key testimony from your video deposition transcript. Export to popular programs like TrialDirector®, Summation® and Sanction® and more…Output options are to DVD or digital file onto a usb 3.0 flash drive.
DepoView™ has new clip editing and clip export tools, which add even more value to Digital Video Transcripts.
Easy to use word index instantly hyperlinks you to crucial portions of the testimony
Just highlight the transcript to make video clips
Export clips to PowerPoint with synchronized text
Export to other major programs like TrialDirector, Summation and Sanction
Search & jump to any keyword
Copy & paste key testimony excerpts for use in summaries, motions & briefs
View exhibits related to the deposition
View video transcript testimony synchronized to the deposition text
Create single and multi-segment clips
Export clips to MPEG1 format
Email videos of clips
Export clips to PowerPoint® with synchronized text in three easy steps:
1.) Highlight Text
2.) Make Clip
3.) Click export to PowerPoint®
Features include:
Video transition at the beginning and end of each clip (and all segments within the clip)
Different slide layouts
Professional designed Color schemes